Brand Preference You Can Touch
Innovative and Custom Promotional Products
MDL provides strategic promotional product solutions…so much more than just the standard trinkets and trash. We extend your brand beyond traditional mediums with customized and innovative promotional and trade show giveaways while helping to differentiate and strengthen your brand image.
OUR PROMOTIONAL PRODUCTS ARE DESIGNED TO DRIVE CONSUMER BRAND PREFERENCE.
So if you are looking to increase market share with your promotional products, look no further. Our proven track record has helped countless companies develop strategies to increase brand recognition with proven results and ROI.
 Cart-stopping, Cart-filling Ideas
From customized to standard promotional products, in-store merchandising, and promotional giveaways—we can help you from ideation through execution.
• Off-shelf products
• Custom products
• Merchandising—Temporary, semi-permanent, and permanent
• Direct Mail
• Apparel
• Customized Online Portals
• Large Format Printing
• Fulfillment
STRATEGIC SOLUTIONS THAT DELIVER RETURN ON INVESTMENT.
Concrete Floor Graphics
Full-color, digital graphic with anti-skid surface. Can be applied to asphalt, blacktop, brick, tile, marble and vinyl. Withstands heavy foot traffic and extreme weather conditions. Guaranteed for 1 year!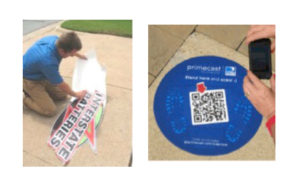 Raising Cane's
With every college recruiting trip, Raising Canes hands out freebies to potential employees to keep them top of mind. All items are functional in a college students everyday lifestyle.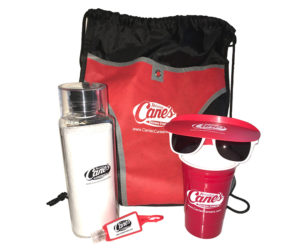 Seasonal Modular Display
A football-shaped free standing display that lasts the entire season. Easily update graphics/messaging. Can build modular displays for different-sized retailers.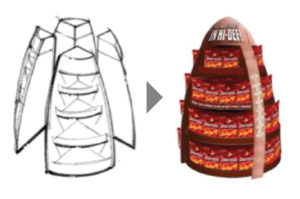 Custom Plush Cow
As part of  The Borden Tasting Tour, "Molly" the Cow was produced as a giveaway to help create consumer excitement with new and existing customers. Was given away with coupons to incite purchases.
Custom Chain
Created a custom chain that was given away during Wing Stop sampling events. Created PR and brand excitement with a unique item that customers could take home.
Scroll Pen
Encourage customer and associate engagement with a branded scroll pen that provides additional messaging opportunities. Simple, yet useful tool with ample space for product specs, features, menu, etc. Can use in any industry!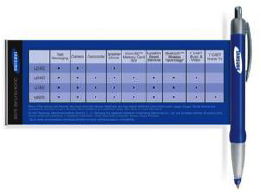 Luggage Tags
Encourage customers to sign up for a new Bank of America travel credit card. Given away with enrollment, this custom luggage tag will remind customers to use their new card to accumulate reward points for travel.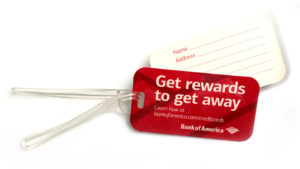 Custom Apparel and 

Accessories
Whether you need a t-shirt, hat, mug or pen we have you covered. We can put your logo on anything you can imagine!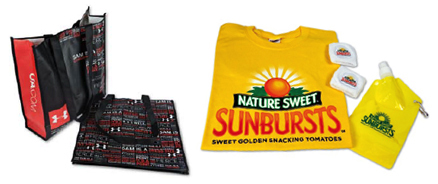 Product Replica Kite
Unique consumer prize for the summer season. Cost-effective, lightweight for shipping.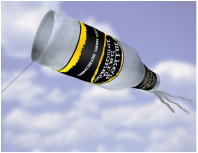 MDL's diverse background in promotional marketing, creative/innovative design and branded merchandise creation differentiates us from our competition. We provide strategic solutions, not catalogs.  Whether you are looking for help with incentive programs, consumer giveaways, in-store merchandising or employee recognition, we can help.
HOW IS MDL PROMOTIONS DIFFERENT?
Quite simply, we can extend your brand beyond traditional mediums with strategic and innovative promotional products while helping  to differentiate your brand. We strive to substantiate our programs with ROI and results. We want to be a valued partner, not a vendor on your list.
Outstanding Service:  For the past 20 years, we have worked with the most innovative companies using promotional products for strategic marketing. We are excited to bring our experience and focus on service to your business and work with you and your team in order to develop the best strategy to meet your promotional products need.
Competitive Pricing: Our outstanding relationship with our vendors allows us to offer the most competitive price for our clients. We purchase in volume and are able to pass on the most cost effective economies of scale for your project.
Our Commitment:  Our experience has earned the trust of some of the top Fortune 500 companies in the USA. Our focus is not only on the current project, but with the future projects in mind. We want a long term relationship, so we can make this a true business partnership.